Fast and Easy Tips to Clean up Macbook
With Mac, one good thing is that it does not require much polishing and care, however, you will be mistaken if you think that Mac's can never slow down. With time, even Mac machines tend to slow down and hence require optimization and cleaning.
If asked my personal opinion, when it comes to choosing the easy way to clean my Mac, I always use the best Mac uninstaller available in the market. Advanced Uninstall Manager is my first choice when it comes to uninstalling programs on Mac and making it more efficient.
A slow and sluggish Mac is the last thing anyone would and hence one should always know the fast and easy tips to clean up a Macbook. In this article, we will not only describe the best Mac uninstaller but also the other methods to remove unwanted apps in 2022 and restore precious disk space.
Advanced Uninstall Manager:
Advanced Uninstall Manager is one of the best utilities that helps you manage the performance of a Mac without much effort. It is designed in such a way that it easily scans for the installed applications on your Mac, displays them, and lets you remove unwanted applications as well as all the files associated with the application you are removing. This ensures that there are no traces left of the application and all the disk space has been recovered.
It comes with a variety of features that help boost the performance of a Mac. It lets you manage the startup items and hence improves the overall boot time of the Mac.
Not just this, it also lets you set applications as a favorite so that you do not uninstall them mistakingly.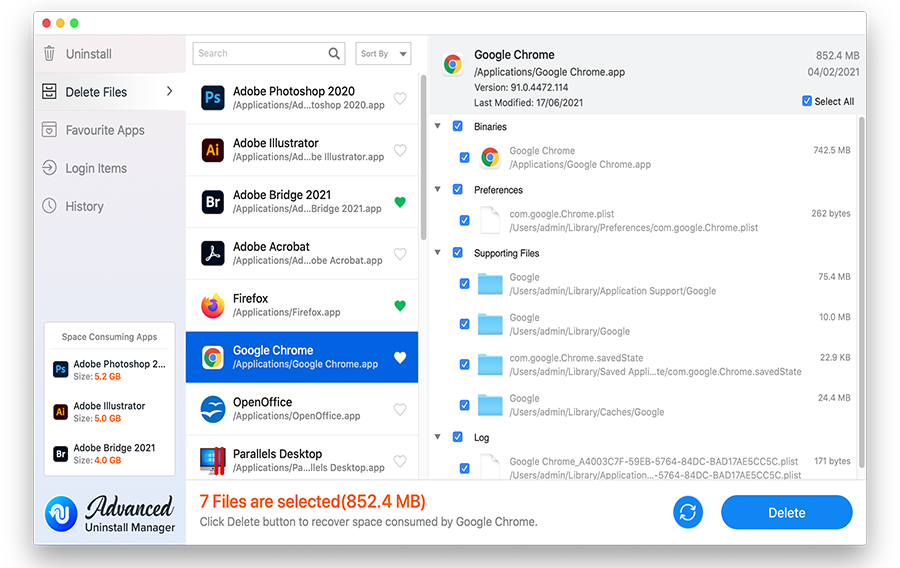 Benefits and Features Of Advanced Uninstall Manager:
Advanced Uninstall Manager is the best means to clean your Mac and comes with the following benefits and features:
1. Remove Unwanted and Unnecessary Applications Without Any Hassle:
Advanced Uninstall manager lets you scan for the applications installed, analyze them and then simply remove them with a few simple steps. It also removes all the associated files thereby releasing more disk space and removing all the traces of the application is removed.
2. Easily Manage Startup Items:
With Advanced Uninstall Manager, you can enable and disable the login applications. Doing so improves the startup time and the overall performance of the Mac.
3. User Interface Suitable For Everyone:
Advanced Uninstall Manager comes with an easy User Interface and can be used by anyone to optimize their Mac's performance. The dashboard comes with a clean and simple user interface letting you uninstall programs on Mac very easily.
4. Mark Favorite Apps:
Easily lets you mark apps as a favorite so that you do not delete them accidentally.
How To Install And Use Advanced Uninstall Manager:
Just like the User Interface, using the product along with downloading is also a straightforward process.
You can easily click on the Download for Mac OS from Apple's AppStore platform.
After it is downloaded and installed, one can follow the steps below to uninstall programs on Mac as well as optimize the overall functionality by managing the Startup items.
1. Launch Advanced Uninstall Manager on your Mac.
2. On the main screen, click on the Start Scan button. This will start the scan and the app will detect all the installed applications.
3. The scan time depends upon the number of apps installed.
4. After the scan is complete, you can go through the apps and select the ones you do not want. Post this simply click on the Delete button to uninstall unwanted apps on Mac.
Besides this, there are some other manual functions that you can perform to keep your Mac running in a healthy state.
Other Simple WorkAround To Make Your Mac Run Like New:
1. Make Sure you have the latest macOS installed. For this, click on Software Update > Update All to install the latest OS.
2. Always keep an anti-virus application installed to protect your Mac from viruses and other threats.
3. Disabling the processes eating up maximum, resources are also a good option for a smooth functioning Mac.
This can be done by navigation to Finder > Application > Utilities and then Activity Monitor. Here click on the CPU tab and then double-click on the app to see how much resources are consumed by the apps. Simply, click on Quit to kill and disable the process.
Wasn't that easy, having a slow and sluggish mac is the last thing any user may want after spending a hefty amount. Advanced Uninstall Manager not only manages the installed applications also manages the startup items thereby releasing precious disk space and hence giving the overall performance a good boost. It is an easy-to-use application that helps you remove unwanted apps from Mac and is an easy way to clean mac.